Lack of rain keeps TVA reservoirs low
Lack of rain this spring after a dry winter will mean less water in TVA reservoirs and more hazards for boaters this summer.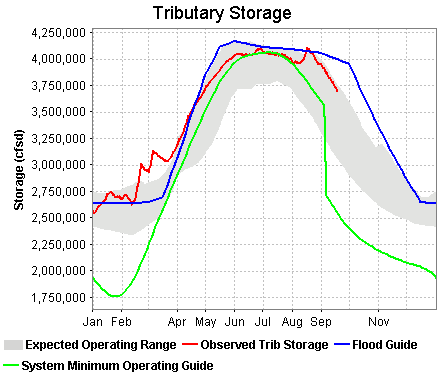 The five-month period of January through May 2007 was the driest such period in 118 years. Average rainfall in the Tennessee Valley above Chattanooga has been only 11.6 inches — or 51 percent of normal.
Because of the dry conditions, most tributary reservoirs were significantly below their recreation target elevations on June 1.
"On average, reservoirs in the eastern Tennessee Valley were about 10 feet below where we'd like them to be on June 1," said TVA River Scheduling manager Chuck Bach. "The only exception was Norris, which was right at its target level thanks to some local rain showers.
"At this point, it will take several sustained, soaking rains — the kind we usually only see when the area experiences the remnants of a summer hurricane — to raise tributary reservoir levels significantly."
As the summer progresses, it gets harder to fill tributary reservoirs, explains Bach. "We're already well into the growing season, so there's less runoff. When it rains, more water is absorbed by the vegetation before it reaches the reservoir system. Also, as the temperature of the water goes up, we need to provide more flow to protect water quality and aquatic life, which means we have to release more water from upstream reservoirs."
TVA has been operating the river system in conservation mode since early February, says Bach. "Because of the continuing dry conditions, we've held back as much water as possible to help the reservoirs fill to higher levels for the summer recreation season. We've only released enough water to meet the minimum requirements downstream for protecting water quality and other key benefits."
That approach has paid off, he says. "It's the driest it's ever been, but reservoir levels are nowhere near their lowest historical levels."
He cites 1986 as an example. "The first five months of 1986 were the third driest on record, so that's a comparable period in terms of rainfall. But most of the larger tributaries were 10 to 15 feet lower on June 1, 1986 than they were this year." [Editor's note: The first five months of 1941 were the second driest on record.]
Because TVA is operating the river system in a conservation mode, Bach says, there's also less water available for hydropower. "We're generating as much power as we can with the water we release to meet minimum flow requirements, but due to the low rainfall, hydropower generation for January through May is only 54 percent of normal."
In addition, TVA has reduced releases for whitewater recreation below Apalachia Dam on the Hiwassee River because of the dry conditions. Those releases began as scheduled Memorial Day weekend, but the volume and duration of flow will be reduced at least through the end of June.
TVA also provides recreation releases from seven other dams, including the Ocoee projects, which will continue as scheduled barring even drier conditions.
"The watersheds where those projects are located have gotten a little more rain than the Hiwassee River watershed," explains Bach. "So, at this point, we've got enough water to provide scheduled water releases."
TVA operates the Tennessee River system and reservoirs on an annual cycle designed to reduce flood damage, keep the river channel deep enough for commercial navigation, and provide other key benefits. TVA lowers the water levels in the reservoirs in the fall and winter to make room for rain that could otherwise cause flooding downstream. Then, each spring, TVA holds water back to help the reservoirs fill to higher levels for the summer recreation season.
The lack of rain primarily affects the reservoirs in east Tennessee, western North Carolina, and north Georgia on tributaries of the Tennessee River. Reservoirs along the main part of the Tennessee River fluctuate less and can reach their summer levels quickly, even during dry weather.
Lower-than-normal water levels could leave some boat docks dry and cause hazards to boaters who might run aground on sand bars or hit tree stumps that are either exposed or closer to the surface than usual.
Information about water levels on individual reservoirs and water releases from specific dams is available here.